More Mystery, More Deduction, More Adventure from Sherlock Holmes
Dear friends,
As we pack our bags for the long flight to Nairobi, Kenya for our 7th Christmas at Happy Life Childrens Home
 , we wanted to thank all our readers, authors, editors and fans for another fantastic Holmes filled year.
2019 has been a pivotal year for MX Publishing. Across all publishing formats (print, ebook and audio) we've grown more than 50%. The watchword for the year was 'innovation' with us embarking on several new projects and breaking new ground in the world of Sherlock Holmes.  We've published plenty of traditional and authentic Holmes stories too, launching over fifty new titles in 2019.
As a social enterprise, we're particularly proud to have set new records in the amount of support given to our key causes – both in terms of fundraising and awareness. The installation of video conferencing capability at Happy Life, and the production of a play broadcast from Undershaw, one of the former homes of Sir Arthur Conan Doyle, and now a special needs school, are just two examples.  You can watch the "Sherlock meets Shakespeare" play here.
Other highlights from 2019:
In July, we achieved one of our longer-term goals for the business, with co-founder Sharon Emecz joining us full time. With her many years marketing experience, including five years as Global Marketing Director for The Economist,  2020 is destined to be a very exciting and fast growth year.
Under the careful eye of editor extraordinaire, David Marcum, The MX Book of New Sherlock Holmes Stories has gone from strength to strength.  Already the world's largest collection of new Sherlock Holmes stories, we published six new volumes in 2019, and with glowing reviews from Publisher Weekly.
Phil Growick's fusing of the Holmes and art world – The Art of Sherlock Holmes, burst onto the scene in May. The project brings to life Sherlock Holmes stories in art form, and in a partnership with The Conan Doyle Estate, we've produced beautiful art prints and other merchandise for our fans to enjoy. 
As the world's first Print on Demand (POD) only publisher (pioneering the concept 20 years ago) we've continued to push the boundaries of what's possible. We're the only publisher to launch a multi-book art project in high-end, full colour, print-on-demand (POD), and in 2019 extended our popular personalisation service to all such formats.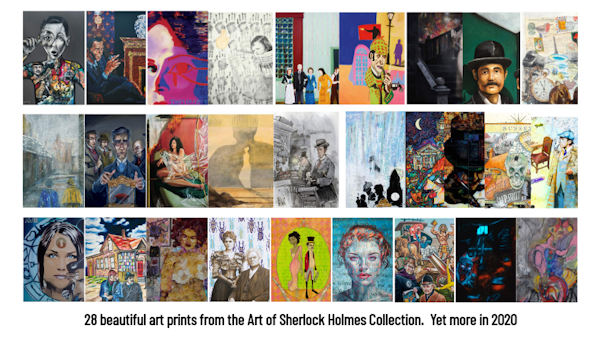 We've delivered a series of wonderful 'solve it like sherlock' mysteries for the pioneering 'Dear Holmes' subscription from Letterjoy. Fans around the world get access to new cases each month and a chance to compete for the much coveted "Detective Extraordinare" award. Dear Holmes has been hailed as one of the most innovative new subscription services of 2019.
Alongside these bigger programmes, we've published plenty of new Holmes fiction and non-fiction, and have certainly kept our invaluable editor Rich Ryan  incredibly busy!  Thanks also goes to our brilliant designer, Brian Belanger who produces such wonderful and iconic covers.
2020 will be busier still with a greater focus on audio content, new subscription packages, and of course more Sherlock stories, art and other gems.
Enjoy the holidays, and we look forward to bringing you more mystery, deduction and adventure in 2020 from the world's greatest detective, Sherlock Holmes.
Kindest regards,
Steve, Sharon and the MX team.